'Off the Table' Video Shown at Steelworkers' Conference.
Dr. Anthony Fiorillo and Dr. Judy Albert, members of the Pittsburgh Chapter of Physicians for a National Health Program, addressed the USW District 10 annual conference in Atlantic City. Their presentation was preceded by a showing of the video "Off The Table" which makes the case for single payer by comparing the U.S. and Canadian healthcare systems. Rank and file union members, as well as union officials, from both sides of the border are featured in the video.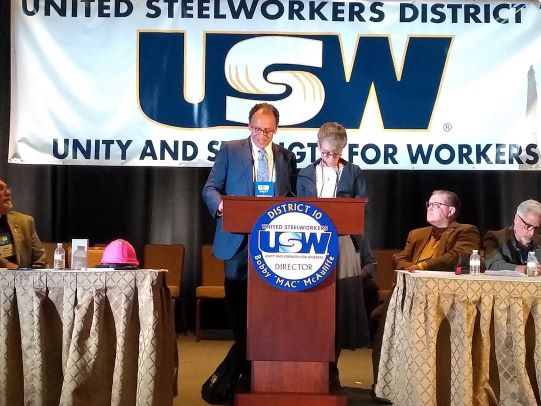 Dr. Fiorillo and Dr. Albert spoke to the attendees about the growing support for national single payer legislation among physicians and the need for physicians and the labor movement to work together to attain congressional passage of such legislation.
District 10 represents all USW local unions in Pennsylvania. The video was introduced by District 10 staff representative Rick Galiano, President of the Beaver-Lawrence Central Labor Council, and Christ Atsidis, USW Local 1211 Vice-President.
The video "Off The Table" is available to all unions and can be seen here.
The picture was taken by T Berry, IBEW Local 201, retired.
2019-09-06